Department of
Chemistry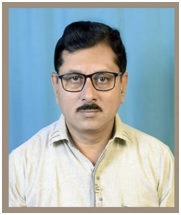 Mr. Mahajan Raghunath Pandharinath
Head of Department
B.Sc. Mathematics
Duration: Three Years
Programme Objective: Upon graduation you should...
1. Have the skill needed to pursue career in education, business and industry.
2. Be prepared for continued study of Mathematics at the graduate level.
3. Experience mathematics outside of regular course work.
4. Ability to calculate and reason to design complex and critical financial
5. Models for Bank and Insurance Companies.
6. Ability to understand both concrete and abstract problems.
7. Ability to make critical observations.
8. Ability to accurately organize, analyze and interpret data.
9. Develop the mathematical logic which is very useful for solving mathematical reasoning problems.
M.Sc. Mathematics
Duration: Two Years
Programme Objective: Upon post-graduation you should...
1. Apply their knowledge in modern industry or teaching or secure acceptance in high quality programmes in mathematics and other fields such as the field of quantitative, Mathematical finance, Mathematical computing, statistics and actuarial science.
2. Communicate effectively both orally and in writing.
3. Work effectively in team.
4. Exhibit ethical and professional behaviour.
5. Develop research skills in further innovative ideas.