Department of
Computer Management and Application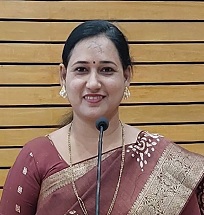 Ms. Manasi Ghanashyam Vaidya
Head of Department
Introduction
R. C. Patel Arts, Commerce and Science College in Shirpur. It's evident that the college has made significant progress since its inception in 1991. With its focus on providing undergraduate and postgraduate courses in the faculties of Arts, Commerce, and Science, the college has been able to attract a growing number of students over the years. Located in a rural tribal area highlights the college's dedication to providing education and opportunities to underserved communities. The vision of becoming a pre-eminent institute that brings out the best in its students demonstrates the college's commitment to academic excellence and personal growth.
Additionally, it's worth noting that R. C. Patel Arts, Commerce and Science College is a Grant-in-aid College sanctioned by the Maharashtra State Government. This likely means that the college receives financial support from the government to help with its operations and to provide quality education.
College introduced Bachelor of Compute Application (BCA) in 2008 and Bachelor of Computer Management (BMS e-Com) in 2007, indicating its continuous efforts to expand its curriculum and provide more educational opportunities to its students in the field of technology and Development.
Goals:-
To prepare students who can go for higher education and start their career with confidence in various sectors.
Objective:-(BCA)
To provide a foundation of computing principles and business management practices effectively.
Objective: -BMS(E-Com)
The main objective of BMS(E-Com) is to develop future managers/software developers/office support professionals, who would meet, the dynamic needs of the industry in a competitive and challenging environment.
The program aims at providing expertise to students in different office support system and software development area.
The broad objectives of the Program are:
To prepare students for respectable career in the e-commerce, e-business, e-banking, e-governance etc. Or in business management domain where management is augmented by information communication technology.
To develop inter-twining competence in the field of Commerce and Management, Computing Skill and Computational Tools.
To develop students as Cyber Security expert.
To develop the basic programming skills to enable students to build application program, websites.
To develop the foundation for higher studies in the field of business administration, computer applications and computer management.
Relevant Features of Department :
Personalized Learning Through Unique Option of Choice Based Credit System
Dedicated Career Support, Virtual and onsite Job Fairs With 50+ Hiring Partners
Robust Learning Management System and Flipped Learning Model for Maximized Learning Outcomes
Daily Live Classes by expert Academicians, Activities, Discussion Forums, Communications etc.
Dedicated career couch/parent teacher
Get prepared for a wide range of careers in the technology & management world